The power of story-telling lends itself to today's content-driven business world.
Judith Gotwald is an experienced story-teller.
She began her career in journalism, stringing for a daily newspaper. Today, Gotwald Creation works with several writers to help clients with copy for newsletters and advertising and scripts for presentations.
Gotwald blogs almost daily on 2x2virtualchurch.com—a labor of love. 2×2 approaches church issues from the lay point of view, which is rarely heard in church publishing. The site provides content for small churches to use in their newsletters, worship, or websites. 2×2's influence led to an interview on a noted Social Media podcast.
She has guest-blogged on Mark Schaefer's highly regarded marketing blog, grow.
See ENGAGEMENT SEQUENCES for samples of marketing copy.
BOOKS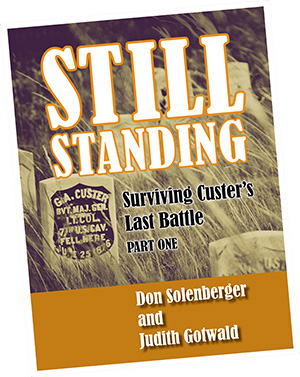 In 2011, Judith Gotwald was asked to ghostwrite a novel. Don Solenberger was approaching 90 years of age and wanted to complete a project he had dabbled at as a hobby for 12 years.
Gotwald took his basic ideas, added characters and plausibility to the plot, and spun a tale that has received four-and five-star ratings on Amazon.
Still Standing: Surviving Custer's Last Battle tells a story of Custer's widow, who outlived her husband by 54 years—years of great change in America, especially for women. An entrepreneur with spirit that rivaled her husband's, Libbie Custer is responsible for creating and preserving the story of Custer's Last Stand as it is known today.
Still Standing was first published online as a daily serial for three months by Venture Galleries.
Gotwald and Solenberger (now 93) join in book talks at regional libraries and were featured at the monthly book club of Philadelphia's Union League.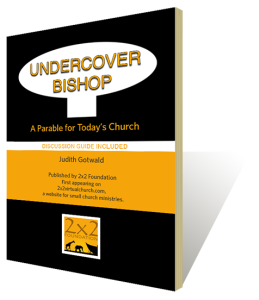 Not one to let a niche define her, Gotwald also wrote a story about the modern church.
Undercover Bishop explores the reality of thousands of small congregations that get little attention from their denominations. They are easily dismissed as dying. Nevertheless, as one church leader commented, "You can't kill them with a stick!"
The story and discussion guide reveal the contributions of small congregations to the whole of the church.
The Amazon links make sample chapters available for both books.
IN THE WORKS

Gotwald is currently writing a series on social media, marketing and branding to help small organizations tackle the new media with severely limited budgets, little training and few staff.